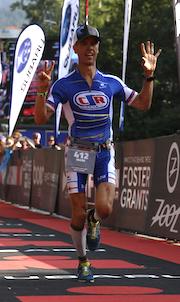 It's the time of the year when an active chiropractor's thoughts turn to triathlon events. Yes, as the weather improves and we're all getting outdoors more, triathletes are visualizing the countless upcoming events.
"I think of it as test time," says Dr. Mark Peverett. "After all the training we've been through we're ready for the test of an actual event."
A Unique Type of Sport
Triathlon is a timed sport that combines three disciplines: swimming, cycling and running.
A typical triathlon begins with swimming. This portion of the race can take place in a swimming pool or open water, such as a lake, ocean or river and can vary from as short as 500 m to as long as3.8 km.
Then the bicycling begins. The course can often take several hours to complete. The distance can vary as well, from 15 km to as long as 180 km.
Then the participants run. Again the distance can range from a standard 5 km to as long as a half or full marathon.
Watch Dr. Peverett Compete
"It's more of a social sport than what you might realize," says Dr. Peverett. "Not only is there a lot of mutual support while we're training but at the actual event, it's less competitive than you might think. Regardless of how we place, most of us are mainly interested in being the best version of ourselves."
While something is going on just about every weekend, there's excitement building for the upcoming Chinook Classic Triathlon. The event takes place on Saturday, June 15, 2019, from 6:00 a.m. until 3:00 p.m. in Calgary.
Many of our Wellness Centre patients are high-level triathletes. Even if they don't take home the trophy, they appreciate the advantage offered by regular chiropractic care. It helps them be their best.
"We're kind of excited about this year's event because the swim (start of the race) will be held right here in our own community of Lake Chaparral," says Dr. Peverett. "Come on out and cheer us on."