Massage Therapy
Massage Therapy Gets Results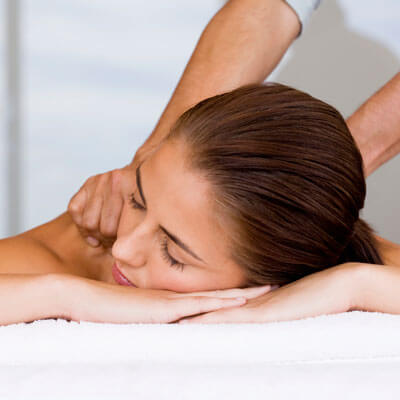 Massage therapy has been used for centuries in both Western and Eastern cultures. Many early physicians referred to touch in their documents, mentioning the uses of pressure, rhythmic movements and the application of oils. Early in the 19th century, Heinrich Ling adapted and defined the massage strokes that form the basis of the Swedish method of massage, the most common method practiced today.
Massage therapy is the manipulation of the soft tissues of the body to gain a therapeutic response. The therapeutic use of massage therapy affects the circulatory (blood & lymph), muscular, fascial, and nervous systems of the body. It is effective in controlling chronic or acute pain, reducing stress and creating a sense of relaxation and well being.
Therapeutic massage is used to help obtain relief from many specific problems, including low back pain, migraine and muscle tension headaches, whiplash, and neck and shoulder tension to name a few.
Many private insurance companies cover therapeutic massage under their extended health care plans. Consult your plan and experience therapeutic massage.
MASSAGE INTAKE FORMS

Child / Senior Rate
A child is anyone under the age of 12 and a senior is anyone over the age of 70.
Cancellation Policy
24 hour advance notice is required when cancelling an appointment. This allows the opportunity for someone else to schedule an appointment, or we can fill someone on the wait list.
If you do not provide 24 hours advance notice or are a No-Show for your appointment, you will be charged the full appointment fee. This amount will be automatically charged to the credit card on file.
Lateness Policy
We uphold our professional standards of being "on time," I regret that our massage therapists cannot give you additional time if you arrive late for you appointment. If for any reason I am late starting your appointment, you will receive the full scheduled time.
Bookings available Monday to Saturday. Contact Chaparral Chiropractic Wellness Centre now to schedule a massage!
CONTACT US »
---
Massage Therapy SE Calgary, Walden, Wolf Willow & Legacy AB | (403) 201-9991