Pediatric Chiropractic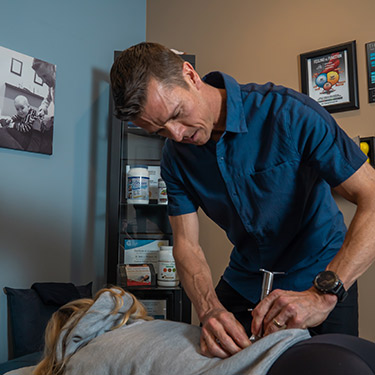 At Chaparral Chiropractic Wellness Centre, there's nothing we love more than to welcome your entire family into our care. Over the years, we've welcomed patients who joined us as newborns and later graduated from high school. Seeing them transition and grow through all of life's stages is just incredible.
Simply put, caring for your children is one of our greatest joys, and we can't wait to help your little one grow big and strong, naturally.
Why Choose Chiropractic Care for Children?
There's an old saying we like to tell parents considering care with us: "As the twig is bent, so grows the tree."
Whether you've got a toddler who's just learning to walk or a soon-to-be college athlete on your hands, one thing is certain: kids of all ages injure themselves quite often. And everything from a minor fall to a serious accident can cause silent trauma to their spine.
Over time, spinal misalignment and nervous system disturbances can grow into other areas, causing trouble for them as they age. Common issues might include trouble sleeping, pain, headaches, lack of focus, back problems, and more.
Fortunately, that's' where chiropractic comes in.
Our team is able to provide a focused assessment to discover any problems happening within your child's body and spine. We'll look for subluxations and areas of stress using our advanced high tech computerized spinal health scan. Should we detect any issues, we'll provide a relaxed, comfortable, and most importantly-gentle-adjustment for your child.
A chiropractic adjustment helps to restore balance and integrity to your child's spine, helping their body to heal on its own exactly as it was intended to. This keeps them growing, on the move and ready to handle whatever life throws at them-naturally.
Will an Adjustment Hurt My Child?
Absolutely not. We pride ourselves on providing care that's very gentle. For babies and children, the amount of pressure applied is no more than what you'd use to check a piece of fruit. There's also no popping or cracking sound that you need to worry about.
Most kids find visiting us very relaxing and are excited to receive their adjustments.
If you're nervous (or they are), we'll gladly show you what an adjustment entails and talk you through the entire process.
With us, adjustments are fun!
Learn More Today
If you're considering chiropractic care for your child, we'd love to speak with you about it more. Contact us today to schedule your first visit-we're looking forward to getting to know you and your family.
CONTACT US »
---
Pediatric Chiropractor SE Calgary, Walden, Wolf Willow & Legacy AB | (403) 201-9991