Pregnancy Chiropractic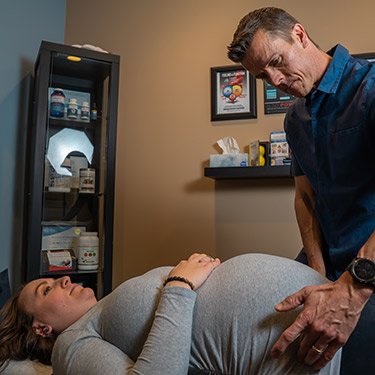 At Chaparral Chiropractic Wellness Centre, it's our goal to take care of you during every stage of your life, helping your body to function optimally and with ease. This includes your most precious, delicate times-like preparing to welcome your bundle of joy into the world.
Our team has years of experience helping pregnant women just like yourself find relief with pre-natal chiropractic care.
We can't wait to meet you.
Why Choose Us?
During pregnancy, the body changes in incredible ways. Organs shift. Ligaments and muscles stretch. And at times, you'll find yourself out of proper spinal alignment due to shifting hips and the pelvis preparing for birth.
These things can all affect your spine. When your spine is compromised, things might ache, shift or not function exactly as they used to. A lot of times, this brings pain to expectant mothers-low back pain, headaches or neck pain, hip pain, and more.
That's where we come in.
Natural chiropractic adjustments are designed with you in mind. During a visit, we'll assess the alignment of your changing body and provide gentle adjustments that improve overall function.
Certified Webster Care
Our chiropractors are certified in the Webster technique, a comfortable and relaxing adjustment experience for pregnant mothers.
During a visit with us, we'll use tools that aid in your relaxation, including special pregnancy pillows designed for comfort and an adjustment table with a hole in the center, so you can lie facing down. Most moms-to-be love our table, as they can't really lay this way at home!
Schedule Your Visit
Ready to experience the natural, focused care our practice provides? We'd love to see you in our office soon.
To schedule your visit, contact us today. We can't wait to meet you (and your soon-to-be little one).
CONTACT US »
---
Pregnancy Chiropractor SE Calgary, Walden, Wolf Willow & Legacy AB | (403) 201-9991