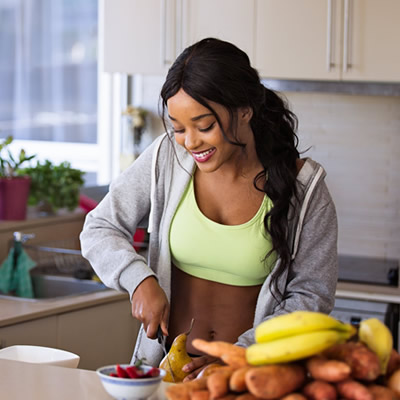 One of our greatest passions at Chaparral Chiropractic Wellness Centre is planting seeds for our patients to grow healthy lifestyle habits. One of the ways we do that is through informative workshops and events. On February 1, we hosted an Inspiring Life 2020 event at Southview Church in Calgary.
Our goal was to seed inspiration into people, so they can make lasting change to help them create a better lifestyle overall.
Dr. Mark
During the three-hour, power-packed event, Dr. Mark and Dr. Barry discussed three areas. These are mindset, meals, and movement. Here are some highlights from the event:
Mindset
We encouraged attendees to define their top values and work on their vision. Setting goals and the stepping stones toward achieving them was discussed. It's essential to recognize that getting to where you want to be is a process. Making small steps toward achieving your vision is key. For example, if wanting to be in better physical shape is part of your vision, you can start small by taking short walks each day.
Meals
While there are lots of trendy diets out there, we like to focus on the basics of making good food choices to nourish yourself. Dr. Barry spoke about the core principles of proper nutrition. Choosing vegetables, fruits, nuts, seeds and lean proteins is essential. Plus, avoiding sugar, white flour and other processed food is crucial. One fun takeaway: If you ever want to indulge in a fast food meal, always have some fresh fiber first like a big salad.
Movement
We also discussed movement as it relates to posture and neurology. Dr. Mark keyed in on the importance of good postural habits, particularly when using technology. With so many people using their smartphones, tablets and other tech devices, posture can suffer. In particular, people get flexor dominant posture that can adversely affect their health.
Degeneration can start to set in and negatively impact neurology and the function of the nerve system. We provided attendees with things they can do at home, such as mobility techniques and better postural habits.
Fitness was also discussed such as how to exercise more effectively. You don't have to spend a lot of time or money to experience positive effects. For example, you can walk every day and do some stretches at home. Need inspiration? Check out the many exercise videos on YouTube.
Our Hope for People
Though Dr. Mark and Dr. Barry provided seeds of inspiration, our true hope is that people go away not just feeling lifted up by what they learned but also being able to integrate a few small steps into their daily lives. "If they carry these actions forward, by the end of the year they will be a better version of themselves," said Dr. Mark.
Testimonials From Attendees
I liked the information presented. It was presented very well. I thought the movement breaks with the music were super fun. I really enjoy Dr. Barry's talk about nutrition and moderation with the goal of being healthy. I really liked Dr. Mark's talk about 'the why' of what we do and also 'begin new habits' and constantly 'try to be the best version of yourself.' It was inspiring!
We found the event to be very well organized and we appreciated the great hospitality and excellent refreshments. Each session was very interesting and informative. We appreciated the opportunity to be actively involved through various activities. It was an excellent event and we will make a point of telling our friends about it for next year.
We enjoyed all aspects of the event. There was a very good change of pace and each presentation was very well done. We appreciated the friendly hospitality of the Chaparral Chiropractic team.
Of course, chiropractic care is another healthy lifestyle habit to incorporate into your wellness regimen. Contact us today to book an appointment!